Gain insight into how the trucking industry has been affected by COVID-19 and what the future holds in a recent episode of OTA on the Air, featuring an interview with Jim Subler, owner of Classic Carriers and chairman of the Ohio Trucking Association (OTA) Board of Trustees.
OTA on the Air, hosted by President & CEO Tom Balzer, is a weekly webinar featuring industry experts and thought leaders who provide updates on the regulatory, legislative and compliance environment in the trucking industry. Listen to Jim's interview here or read a partial transcription below.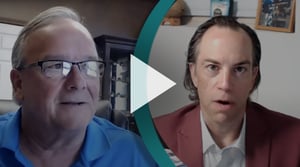 Partial Transcription:
How have you seen COVID affect the trucking industry?
Jim (03:00):
You know, it's your drivers, it's your office people. It's one of those things that hey say, well, you're supposed to be prepared for anything and everything, but who could ever dream this one out and be prepared for this? And so I think, myself, everybody I've talked to, it's all kind of gut reactions as to how you handle it. … Now I think we have a much better handle on it and we're all dealing with it according to what the recommendations have been made.
What have you done to address COVID with both drivers and the office staff?
Jim (03:52):
We did the same thing as everybody else did. You encourage them to carry their hand sanitizers. You have to have a mask, be careful where you're at, be conscious of your surroundings at all times, you know, respect the places you're at.
A lot of shippers, you know, they didn't know how to react either. So you had these situations where a driver couldn't even take his bills. And so how does he get his bills signed? The first couple of weeks of this was really a mess for everybody. And, you know, tempers were pretty well up .. In here as far as our office with this social distancing and keeping everybody at least six feet apart, we had seven people, I think, that went and worked from home.
How has the shipping community adapted to COVID overall?
Jim (06:15):
Most of them, like I say, they were totally caught off guard … How do you react to this? You know, you have an HR person or a safety person that's saying, 'We can't do this. We can't do that.' So the first thing you do is lock out any outside interference, which is your truck drivers that are coming in
… Overall, the ones that were just crazy out of the gate have kind of finally started to make some accommodations … We found more people were willing to accept electronic billing, the electronic transfer of signatures … so many people were handling it in so many different ways, but now, especially with food, we seem to have a much better flow of things and an understanding of we are all in this together. We gotta work this out.
It's just been a real learning curve. And I think as we look into the future, a lot of things are still going to change from this point moving forward … it's going to be an interesting ride for a while here.
What does OTA look like 10 years from now?
Jim (20:18):
I'd like to see our membership up probably by 25-30% … everybody says the small trucking companies are going to go away. No, they're not. There's always going to be a need there for that small niche guy, you know?
I can't see them taking away the total entrepreneurship of trucking … the more knowledge we can help the small guys to be able to compete and to have the opportunities … you know, for networking, that's very important. We're a place a small trucking company can come to learn things.
Do you ever see a day that there actually is a driverless truck utopia?
Jim (29:22):
Personally, I don't think I will … the infrastructure to accept that is so huge … it still requires all these people and places to park the trucks, backing in … I think if you want driverless, put your trailer on the railroad, let them haul it, you know, and then you get to the other end, you have your driver there.
What's the best piece of advice you can give someone starting in the industry?
Jim (33:15):
One of the things you and I haven't talked about and that's going to be insurance … our health insurance is one thing, but our liability insurance, that's starting to scare me … I think as an association we need to be able to tell people, 'This is kind of the way we feel things are going and here are good places to go.'
It's going to be an interesting year for insurance and especially with this whole COVID thing. I think you're going to find more players get out of it and not ensure tracking because of the COVID thing …
Tom (34:38):
Yeah, I would agree. And I think insurance has been brewing for at least the last 12 months. And now it's just going to get worse.
Maybe the only saving grace is that coronavirus decreased the number of traffic accidents on the road … I think it's going to take some creative financing for the lack of a better word to make the insurance work moving forward … You may have to go out and find it at some other venues or find multiple layers of insurance … Insurance is going to be a bigger issue this year than probably ever before.
Looking for a Logistics Company You Can Count On?
Classic Carriers Inc., with locations in Versailles and Greenville, Ohio, provides dependable, safe and timely transportation of refrigerated and dry products throughout the 48 contiguous states and Canada. Our satisfied customers include food shippers – both fresh and frozen – medical equipment manufacturers, custom cabinetry/furniture makers, plastic/resin producers and more. We take great pride in our ability to adapt our resources to the needs of our customers.