Women truckers are paving the way toward a shift in a once male-dominated industry. According to recent data by Women in Trucking, nearly 14% of professional drivers are female.
This blog explores the benefits of having more female drivers and offers tips and resources on bringing gender diversity to transportation.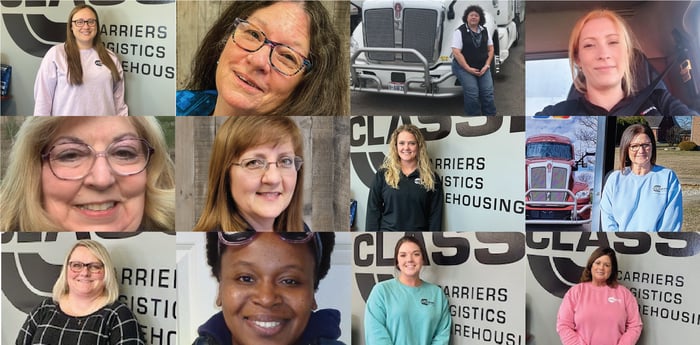 Upward Trend of Female Truck Drivers
Fourteen percent of OTR truck drivers are women, up from only 7% in 2018 and 10% in 2019. The current data shows an upward trend with a growing number of women earning their CDLs and becoming professional drivers.
Over 35% of women are currently in leadership roles in the trucking industry, including C-suite or supervisory positions, and those numbers are expected to increase.
Organizations like Women in Trucking empower more women to enter the industry with resources to guide and support them. The American Trucking Association recognizes women's positive impact in the industry and recently launched Women in Motion to continue breaking down barriers females may encounter.
Benefits of Women Truckers
Trucking companies experience several benefits with female drivers on their team. Here are some examples of how women truckers benefit the industry:
1. Provide a fresh and unique perspective
Women truckers offer a new, unique perspective to the industry. Female drivers may come from different backgrounds and experiences with the opportunity to provide new solutions and ideas to the table. They can contribute to problem-solving and help develop best practices for a more gender-diverse environment.
2. Fill the gap in the driver shortage
Today's driver labor shortage remains an issue, and companies continuously have to stay on top of recruiting top talent for their team. Truckers have a crucial role in the economy, so falling short isn't an option for most companies. Female drivers can help bridge the gap in the driver shortage by expanding the driver pool with hard-working, qualified candidates.
3. Lower turnover rates
According to Omnitracs, 35% of female truck drivers are less likely to leave voluntarily compared to nearly half of male drivers. Many trucking companies today have high turnover rates, meaning their new drivers leave after a few years or less. Hiring and training take time and can have significant costs. Companies will achieve a better return on their investment if they can decrease driver turnover.
4. Add more miles
Per recent data, women truckers log more miles than males, ensuring on-time deliveries and more efficient scheduling. Timing is important in the trucking industry due to the daily load volumes and the critical impact transportation has on the economy.
5. Reduce preventable accidents and other safety violations
Female truck drivers have fewer accidents and report fewer safety violations than male drivers. Accidents and safety issues are not only dangerous but costly to trucking companies. Hiring and maintaining a safety-conscious team of drivers is essential to a successful company.
Tips and Resources to Get Started in Women Trucking
Many female truck drivers face obstacles in the industry. Fortunately, there is a growing number of resources available to women and others who are seeking support and assistance. Often, it can be challenging to know where to start.
Here are a few tips and resources to help:
Connect with an organization dedicated to female truck drivers. Organizations like


Women in Trucking

and

Real Women in Trucking

focus on encouraging employment, addressing obstacles and celebrating successes. They also offer extensive training and resources on nearly every aspect of the industry.
Get your commercial driver's license (CDL).Many companies have

training programs

that include obtaining your CDL. Find a trucking company you want to work with and contact them about their driver training application process.
Network with other professional drivers. Begin to build a network of people you can trust in the industry. These professional relationships can provide invaluable support and mentorship opportunities.
Be conscious of your safety. Consider following personal safety guidelines as an OTR driver. The

Federal Motor Carrier Safety Administration (FMCSA

) recommends the following best practices to remain safe:

Lock your doors.
Avoid parking overnight in isolated areas or on highway ramps and road shoulders.
Read rest area and truck stop reviews for safety and cleanliness.
Park and walk in well-lit areas.
Heed the guidance of other drivers regarding unsafe areas in cities and towns.
Be aware of your surroundings at all times.
Join the Women Truckers at Classic Carriers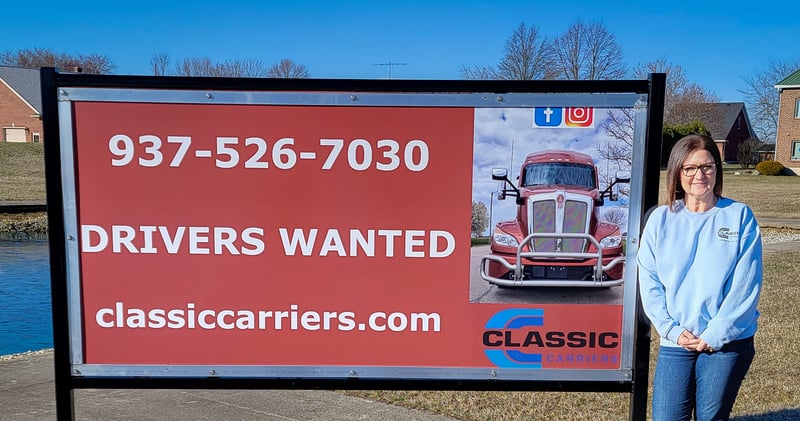 We're hiring and welcome the opportunity to expand our female driver workforce here at Classic Carriers. You'll find a friendly, family-like environment with generous pay and benefits package options. We also have a family rider policy and allow pets in the trucks. Contact a recruiter today!