High demand for truck drivers continues to push up pay, benefits and bonuses across the nation. In fact, the U.S. has seen a truck driver shortage for the last 15 years, and it is only predicted to keep growing.
For those seeking an adventurous career, now is a great time to seek a truck driving position. Not only are there many job opportunities available, but you are also securing a future where you will be in demand.
Keep reading to learn more about what pay packages and benefits to look for to gain a well-paid trucking career.
Shortage of Drivers
The shortage of truck drivers started nearly 15 years ago, with a steady increase nearly every year after.
In 2018, the trucking industry was short by roughly 60,800 drivers, which was up nearly 20% from 2017's shortage of 50,700 drivers. If current trends hold, the shortage could swell to over 160,000 by 2028.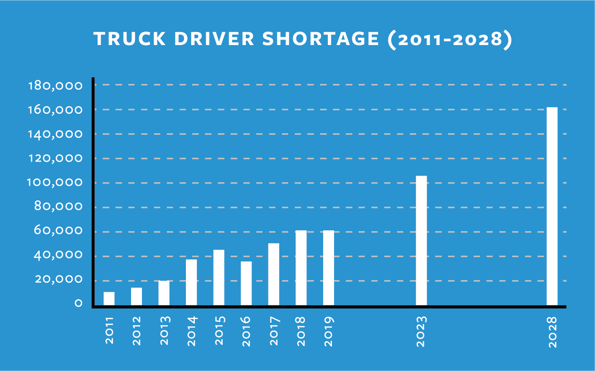 Many articles cite the main reason for the shortage as the on-the-road lifestyle, which doesn't appeal to everyone. It has unique challenges that many other jobs do not.
So, what makes a happy trucker? Here are the top reasons truck drivers are satisfied with their careers and who they work for:
Good pay

Flexible schedules

Fair treatment by the carrier

A relationship with the people they work for

Pleased with their destinations and routes

Satisfied with work/home time
Gain Experience with a Driver Training Program
Like most jobs, your pay as a truck driver is influenced by your experience. As a new driver, you will start at the bottom of the pay scale and may even need to get a required number of hours on the road before you are officially hired.
If you are fresh out of CDL school or are still working on getting your license, look for a company that offers a driver training program.
For example, our driver training program pairs new drivers with a driver-trainer who has been hand-picked by our safety department. The program allows the new driver to gain the required experience and offers completion and sign-on bonuses. Trainees can also apply for tuition reimbursement.
The Over-the-Road Income Model
Most non-salary drivers earn their income 'by the mile,' vs. income by the hour like other industries. The cost per mile (CPM) and the number of miles you drive in a day determine your earning potential.
However, there are limitations to how many hours a driver can be on the road. The Federal Motor Carrier Safety Administration has hours-of-service regulations to help keep fatigued drivers off the roadways.
What to Look for in Truck Driver Salary Packages
When seeking a truck driving position, make sure to look at the company's incentive package beyond the CPM. Additional opportunities to look for include:
Various pay packages so you can choose what is best for you

Performance and safety bonuses

Yearly pay increases

A sign-on bonus

Referral bonuses

Detention and layover pay (payment for time spent waiting due to shipping or receiving issues)

Pay for additional stops or weekend deliveries

Paid training programs with tuition reimbursement

Medical, dental and other insurance packages
>>> Curious what Classic Carriers pays its company drivers? Find out here.
How Much Do Truck Drivers Make?
The average annual wage for tractor-trailer truck drivers in the U.S. was $45,570 as of May 2018, the most recent data available, according to a Seek Business Capital report using statistics from the U.S. Bureau of Labor.
That's up from $43,590 in 2016. Since 2006 when the average wage was $36,320, truck drivers' average annual salary has risen 20 percent due to the demand for drivers.
In Ohio in 2018, the average annual truck driver salary was $45,010, which is 3.5% higher than Ohio's average per capita income of all occupations at $43,478
The Buckeye State is also one of the nation's biggest employers of truckers, with more than 74,000 truck drivers working.
We Train! We Hire!