Giving back and engaging with the Versailles, Ohio community is a core part of our ethos at Classic Carriers, especially during the holiday season. We're proud to partner with Wreaths Across America, a nonprofit dedicated to remembering the fallen, honoring those who served and teaching the next generation the value of freedom.
This year, the entire community has the opportunity to join us in our effort to bring National Wreaths Across America Day to Versailles.
Moving the Mission
For The last few years, Classic Carriers has been part of the Wreaths Across America "Honor Fleet" – a team of carriers donating services to transport wreaths to cemeteries around the country. Last December, we also organized a group of Classic volunteers to help place wreaths on the graves of military members at a cemetery where we delivered to in Greenville, Ohio.
This year, we're taking our involvement to the next level.
Classic Carriers President Lucas Subler, alongside other local businesses, is organizing the first annual Wreaths Across America event for Versailles veterans. Wreaths will be placed at the graves of veterans at Greenlawn, St. Valbert and Frenchtown cemeteries, with a ceremony taking place on Saturday, December 16, 2023.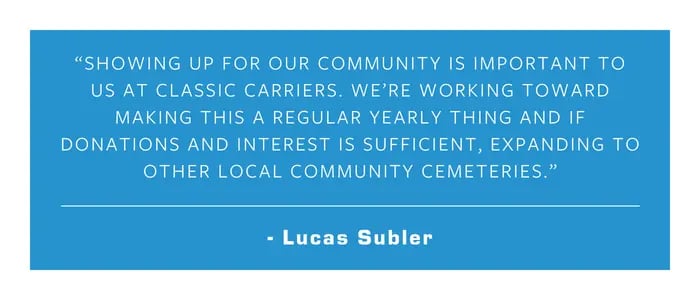 To sponsor a wreath for a veteran's grave, visit our Wreaths for Versailles Veterans event page. More than 1,000 wreaths have been sponsored so far! Help us keep the momentum going by donating.
Veterans in the Trucking Industry
Veterans play a huge role in keeping supply chains moving smoothly. An estimated 10 percent of professional truck drivers in the U.S. are veterans, according to the U.S. Census Bureau.
A career in trucking can be a natural fit for veterans transitioning to civilian life, providing a meaningful opportunity to leverage their skills. Military service promotes teamwork, a sense of purpose and commitment to safety, all of which lend themselves to trucking.
Join the Movement to Remember, Honor and Teach
Help us in honoring our local heroes! Visit our Wreaths for Versailles Veterans event page to sponsor a wreath, or you can volunteer to help place wreaths.